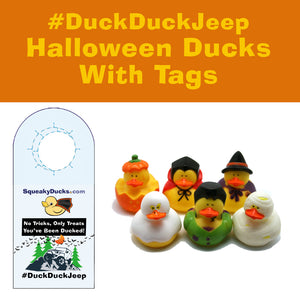 Our pre-packaged sets of Halloween ducks and tags contain randomly assorted 2" - 2.5" Halloween ducks with our colorfully printed Halloween DuckDuckJeep tags. 
With an assortment of Halloween and Costumed ducks, you can choose a duck to fit the personality of each Jeep you are ducking for the season of ghouls and ghosts!
Manufactured out of vinyl
Approximately 2" - 2.5" in size
Not weighted; not guaranteed to float upright
Assorted Halloween styles, which may be different than what is shown in pictures
Quick turnaround time - most orders ship in 1-2 days after order
Sold as-is, no refunds, returns or exchanges on this item.
Sorry, but additional discounts or free duck tags are not able to be redeemed with this product.
One Halloween Duck Tag included with each duck purchased in this  Duck Set.
Tags may vary from that shown in the picture.
*Not affiliated with Jeep, nor are these ducks branded as "Jeep" or in the appearance of a Jeep; they are offered at a discounted price with tags for the fun of ducking other Jeep's.