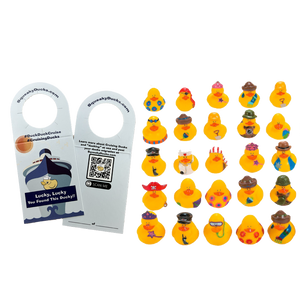 Bon Voyage! Available exclusively at SqueakyDucks.com, our Cruising Duck Tags & Duck Set are perfect when hiding ducks around cruise ships, or when gifting as "fish extenders" on your next cruise. It's always fun to be "ducked" - make someones day and duck them good!

The tags are made of cardstock printed with our colorful cruise message on the front, with enough room on the back to add a personalized message, along with what number this duck is out of X number of ducks. For example. you're hiding 25 ducks around the ship - this duck is 1 of 25. Each tag has a perforated hole that can be put around the duck's neck. Set comes with 25 randomly assorted ducks and 25 of our exclusive Cruise Duck Tags.
It couldn't be simpler! Just choose the quantity in pre-packaged sets of ducks and tags (25, 50 or 100) you would like, and we will send you that quantity of randomly assorted 2" - 2.5" ducks with our colorfully printed Cruising Duck tags.
With an assortment of ducks, you can choose a duck to fit the personality of each person you are ducking!
Over 750,000 sold! Get yours today! 
Manufactured out of vinyl
Approximately 2" - 2.5" in size
Not weighted; not guaranteed to float upright
Assorted styles, which may be different than what is shown in pictures
Pre-packaged sets are available in quantities of 25, 50 and 100 ducks & tags
Quick turnaround time - ships in 1-2 days after order in most cases
Sorry, but additional discounts or free duck tags are not able to be redeemed with this product.
One Cruising Duck Tag included with each duck purchased in a Duck Set.
Tags may vary from that shown in the picture.