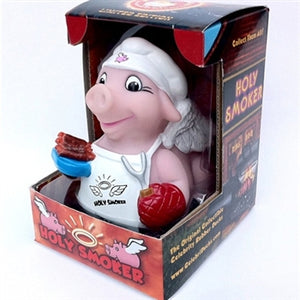 This popular little piggy is guaranteed to bring a smile to anyone who loves good BBQ. He shows off the Holy Smoker logo and carries a very authentic looking plate of ribs. The perfect gift for the BBQ lover in your life. Oh and did we mention that he has wings proving that age old saying, "when pigs fly" or in this case, FLOAT!! 
Designed in California

Weighted for great upright floating
6"L x 4"W x 6"H
Limited Edition, Get him while he's available!