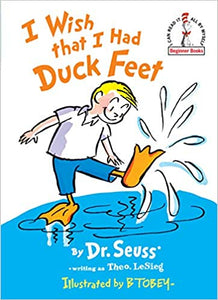 A young boy weighs the pros and cons of possessing various animal appendages—such as a duck's feet, a deer's antlers, a whale's spout, an elephant's trunk, and a long, long tail—only to decide that he's better off just being himself. A zany, insightful story that beginning readers will wish to hear again and again!
Hard Cover
64 pages
Grade Level: Preschool - 2nd Grade
Reading Level: 3 - 7 years of age
Language: English
Make sure to pick up a pair of Duck Feet Slippers, which compliment this book! Available here.